You've probably spent countless nights staring at that wall covered in paneling, or the dirty tile backsplash rising from your bathroom vanity. When you first moved in, you thought to yourself- "I'll fix that after I get settled". Now, five years later, those eyesores are still staring back at you, laughing at the years that have gone by.
Home renovations can stress your mind, body, tolerance for your partner, and your wallet. Hidden costs and rising materials list can kill a budget before a project ever gets off the ground, driving many people to just deal with the ugly and move on.
With that in mind, we as home designers in Winnipeg wanted to assemble a few tips and tricks to help you save money while getting those dilapidated areas of your home transformed into the cover picture of your favorite magazine.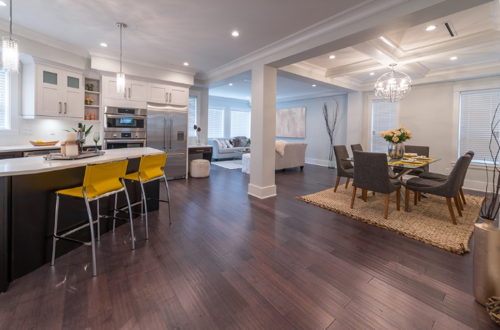 Browse the Clearance Racks
When big box stores start running low on stock of a item, and the manufacturer doesn't intend to resupply that item, they'll typically mark them down drastically in order to sell it quickly.
These clearance racks can oftentimes contain enough material to complete a small job, such as tiling a bathroom vanity or floor. Companies often redesign a certain style, discontinuing the old one. Just because it's on the markdown rack doesn't mean it didn't sell well or was of low quality.
If you happen to live in a metropolitan area where a few of the same stores are within driving distance, call around and find out if they to have stock of that item that they are liquidating. If they do, you may be able to acquire enough for a larger project such as new hardwood floors for the foyer or new countertops for the kitchen.
Don't Lose it, Reuse it 
For any parent of a paw patrol obsessed child, you'll know what Rocky has to say about throwing things away. In the age of going green, simply recycling may not be enough anymore. But, reusing parts of your remodel can save you a ton of money too.
If you're attempting a kitchen remodel, replacing cabinet doors, drawers and hardware can add hundreds, if not thousands of dollars. In a standard kitchen of fifteen cabinets and 8 drawers, replacing just the doors with a simple shaker design can cost around $300. Finish off with new drawers and hardware for all and expect to shell out a grand total of $560.
A simple sanding of the doors and drawers and a coat of paint can bring old cabinets back to life. Wash the hardware in hot, soapy water, dry and refinish with a spray paint intended for metal and your hardware looks fresh off the shelf. Two gallons of quality paint and a can of spray paint costs around $55.
Bringing History Back to Life
The United States is full of beautiful, old homes that were hand built from locally sourced materials. One of the greatest travesties is seeing someone rip up centuries old hardwood floors and slapping down a cheap knock off its place.
New, real hardwood floors can be incredibly expensive, so it may seem that the way to save money on a worn out, scuffed up floor is to replace it with a composite hardwood.
However, a little elbow grease and a rental floor sander can save you money still, while revitalizing those 150-year-old oak hardwoods. Installing a mid-grade laminate in a 150 square foot room can conservatively run you $500.
Contrast that to a rough daily rental rate of $65 for a floor sander and a further $75 for the stain and sealer, and you've got brand new (antique) hardwood floor for nearly a quarter of the cost.
Browse the Yard Sale Pages
For those of you who have Facebook, the marketplace can be a great way to save a ton of money on expensive materials.
Everything from flooring to siding, tile to paint, carpet to wallpaper and everything in between can routinely be found on the various "yard sale" pages.
Most of this is leftover from a larger job that people just want to be rid of and hope to recoup a little bit of money in the process. For example, one of our contributors recently refloored their laundry room and front bathroom as well as repainting their daughter's room with leftover materials found on these pages. And for a lot less than buying the materials from a box store.
If you go this route, be mindful of safe practices when buying from people online, including meeting in a well-lit, populated area and letting someone know where and who you'll be meeting.
Renovating your home doesn't have to break the piggy bank, and it doesn't have to be put off until the next owner walks in. With these four key tips, a home reno can be quick, fun, easy and cheap!