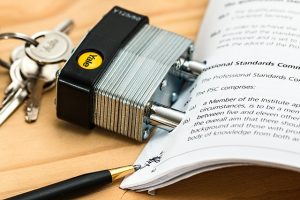 When you're running a small business, your business documents are your lifeblood: vital contracts that ensure the supply of raw materials you need, the service of key contractors, and ensure you have the premises you need to operate your business.
Security should be a priority for you and your business. Here are few tips to help keep your documents secure.
Physical Security
The first step is in securing your physical office. It's worth reviewing the security measures your building management has in place, and ensuring they are up to date. They have an obligation to keep your office secured and it's not stepping outside your bounds to ensure they are meeting this requirement.
You can also focus on security inside your office: issuing employees with laptop locks will make it harder for them to be physically removed from the office in the event of a break in. You can also make sure that physical copies of important documents are kept in locked storage.
Employment Practices
You can train your employees to have particular concern for safety and security if this something your business needs to focus on. The government offers a free series of training sessions online for small and medium sized businesses, with a focus on being responsible for information. You can make sure your employees are thinking carefully about how they deal with sensitive information outside the office: staying away from unsecured networks, and not sharing sensitive information with people outside the office. Helpfully, this can also inform and double up with training on adherence to the data protection act.
It's also important to engage in a contract review when taking on new staff. Make sure they are contractually obliged to keep your data safe. While it is to be hoped that all employees would work towards this as a matter of course, it is helpful to have a contractual clause to point to in extremis.
Online Storage and Sharing
It's worth looking at how you're storing and sharing electronic documents: not only could you use this to make strides forward in security but also in efficiency. Many online law firms also offer secure online storage for your documents as part of their package. This allows you to keep important documents in the cloud without worry, and also speed up invoicing by sharing these documents for online signatures.
Like Us? Sign Up!
Subscribe to get the updates from The Free Financial Advisor.