Special Skyfall Release Episode–2 Guys & Your Money 017: What if James Bond Needed Financial Advice?
Podcast: Play in new window | Download
Joe…Average Joe here, with your show notes. You know, Moneypenny, that I wouldn't dream of giving the show notes to anyone but you. Of course.
Thanks to everyone who helped put together this special show to coincide with the release of the new James Bond film Skyfall.
Show Notes
< > Open
The monsters are loose!
Show sponsor: Fidelity Invesments. Check out the Fidelity website.
Our show agenda
<4:10> Tips to Lower Your Car Rental Costs: Drive like James Bond….for less money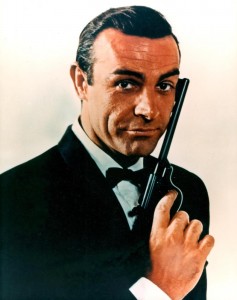 <12:00> PK from DQYDJ.net: Casino Odds
<16:30> Let's Give Something Away
Our mystery voice was Phillip Taylor from PTMoney.com and the organizer of FinCon. To hear our interview with PT, check out our September FinCon podcasts.
This Month: We're giving away a $25 Amazon gift card so you can buy a holiday gift for family, friends, or your favorite podcaster!
<22:23> The Mission: A mortgage is blowing up in Northeast Texas, and only James Bond can save it.
Thanks to my son Nick, Carrie Smith from CarefulCents, Dr. Dean (from Staten Island this episode!) from the MillionaireNurse blog, Len Penzo from LenPenzo dot Com, and Dominique Brown from YourFinancesSimplified.
<39:25> Todd Mayfield from FearlessMen.com is "F," Bond's new financial gadget guy. Find out 7 great gadgets worthy of Mr. Bond's money and attention.
Looking for the gadgets? FearlessMen has a companion piece today: Gadgets Are Forever: The Best James Bond Financial Gadgets.
<> End Show
Our favorite Bond films: OG – Casino Royale  Joe – Octopussy
Show Sounds:
Sample tracks all under 30 seconds.
Several tracks from No One Lives Forever video game soundtrack, Morcheeba's "Everybody Loves a Loser," Bond's "Bond on Bond" remix, and other tracks by Incompetech.com (Royalty free music).
Photo: johanoomen