6 Reasons to Shut Up About Your Problems and Save: Our Cuppa Joe Discussion
It's Thursday! That means your favorite post of the week, where we discuss whatever opinion I've formulated in my little brain. This week, I'm addressing a search term from yesterday. Before we get to that: whoever kept finding my site (and reading several pages) by Googling "Oompa Loompa," two things. First: WTF. Second: Thank You.
"The truth is the safest lie" – Anonymous
On Google Analytics any day, I love to browse the search terms that lead people to our little TFFA site. Yesterday there were many of the obvious queries about forgetting to file your taxes or making too much to contribute to the Roth IRA. I'm a little creeped out by the searches that are an unintended consequence of our old "Boner of the Week" posts, (where we'd discuss stupidity in the press or blogosphere…probably not what they're asking to find, although this picture still makes me laugh).
I understand those.
A search this morning was for "boomer retirement headwinds US economy." This could be a student completing a paper or a journalist hoping for inspiration. I don't know. But I don't think so. I've heard this story too many times.
Here's what I think it is:
My Opinion:
In my experience dealing with clients "back in the day" for 16 years, this could have easily been the search term of someone who'd spent their entire life avoiding saving money and is now hoping for a good story to tell. It's like that time you were already running late to an important dinner and you happened upon a car accident. You didn't have to lie about your tardiness because some truth jumped in the way.
If you're looking for reasons why Baby Boomers–or hell, even Gen X or Y savers and beyond–are going to possibly hear that giant sucking sound coming from the 401k statement, let me count the ways….
1) The Chinese economy is in trouble. CNBC has been chock-full of analysts preaching doom for this export based economy. Here's a good story from WSJ Online about banker's fear of loaning money to Chinese companies: China Finds Shrinking Appetite for Loans.
2) The housing situation, regardless of short-term good news (yesterday Reuters reported April housing starts numbers rebounded), is still bound to be weak. Analysts expect a long road to normalcy because so many potential buyers are stuck underwater in their current home.
3) There are over 7 million non-starting 20-somethings in the USA living at home with parents. One out of every two young college graduates is unemployed (Huffington Post). You're competing with 7 million people who are motivated to find a career (well, many are motivated) and are probably willing to work for less money than you.
Not enough?
Here come three more:
4) When the Fed raises interest rates (and at some point the Fed WILL have to raise rates), this great deal on debt we've had for over two years will end.
5) President Obama has made it clear that the $2 billion problem at JP Morgan is going to become a political issue, potentially causing new lawsuits and handcuffs on free market economics. I'm not saying this politically and financial planning isn't about whether it's good or bad: this is just the reality of the current banking situation.
6) Europe isn't done imploding.
This is the minefield boomers will have to navigate during retirement. Is it frightening? Of course it is! Is it a great story? It's wonderful fodder for anyone hoping for a financial car wreck to explain why you're not where you rightfully belong with your financial picture and retirement dreams.
But if you're going to win, understand this important point:
Everyone is playing under these same conditions!
It's a story, but not a valid reason why you didn't reach your goals.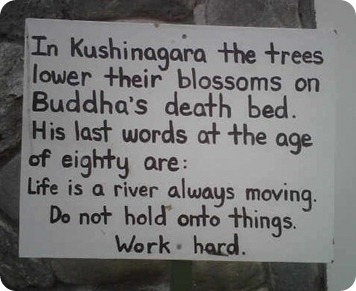 Here are some truths:
- Millions of people will succeed despite all six of these problems above. How? They'll work faster, smarter, more creatively. Some will take the stupid way and work (gasp) hard.
- There will be opportunities in the financial markets. While everyone is looking at the latest, greatest, most frustrating website IPO on earth, someone else is taking the road less traveled and thinking independently at other opportunities.
- There will come a time when you'll need money and won't be able to work. Your story isn't going to help you on that day.
So, Mr. or Ms. searching Google for an excuse, we've gotcha covered above. But that time you wasted searching for a story to weave someone else was spending on moving forward.
Got some other good reasons we're all bound to fail? Let's extend this pity party into the comment section.
(photo credit: Buddha quote: ifindkarma, Flickr; World's Biggest Liar, Alan Cleaver, Flickr)