Do You Define Yourself–Like Detroit–Too Narrowly? Our Cuppa Joe Discussion
I think there's a lesson to be learned in Detroit.
According to a Detroit News article, Chrysler Corporation is moving top executive offices downtown from their current suburban spot. It's largely a symbolic move, with only 70 employees moving, but pundits say shifting toward downtown Detroit is ridiculous. The schools are horrible, crime is rampant, the city is on the verge of bankruptcy. Workers won't want to make the long commute into the much-dead city.
What is Chrysler thinking?
Chrysler CEO Sergeo Marchionne has begun a painful turnaround of the ailing company. Chrysler sales rose a whopping 20.4% last month, continuing what has been a meteoric rise back from the dead. He's achieved results be being a leader, not by listening to critics. Maybe Detroit would be in better shape and have a better reputation if collectively the Detroit automakers had viewed themselves and the city of Detroit differently.

Historical Significance

Detroit is a city in gridlock, and the auto companies are squarely to blame. Generous weight limits negotiated by special interest groups allow heavier trucks to destroy local roads. Today the highway system is ridden with car-swallowing potholes. In fact, in another Detroit News article, the Michigan Department of Transportation has decided to completely shut a seven mile stretch of I-96 for several months to completely rebuild it.
Bigger yet, there is no mass transit system in place, beyond an unreliable bus network. I once decided to take public transportation the short 6 mile commute to work. I'd just travelled the United Kingdom and was pleasantly surprised that I could traverse much of the nation without ever touching a car.
Not Detroit.
The six mile ride to work would take me two and a half hours. I could walk there and still have time to spare.
I compromised: on nice days I began riding my bike.

Someone Gets It

As part of the move downtown, maybe there is someone at Chrysler who sees a bigger picture. Chrysler pledged $3M dollars to be a sponsor of a light rail project connecting downtown with Detroit's New Center area, which is home to the Amtrack station. This will gives Detroiters mass transit access to the suburbs in the north and west, such as Birmingham, Dearborn and Ann Arbor. Suddenly, Detroit is showing a hint of moving past gridlock.
Where was this before?
The auto companies, in their infinite wisdom never stood behind any type of light rail project. Their stance, in essence, has been, "We're car companies. This is a car town, not a mass transit town.

Missed Opportunity

My opinion: I know how outsiders see Detroit. It's a dirty, crime ridden city of blight and missed opportunities. I was never surprised when people would visit and explain how they were pleasantly surprised by the beauty and the people.
I believe the autos helped destroy Detroit's reputation by their insistence that they were "auto companies" rather than "transportation experts."
Companies like Google, Microsoft and Nike are known for their sweeping, beautiful campuses. Apple allowed other companies to take the lead as technology companies, while they focused on becoming a consumer electronics firm. Where others pushed the features of their computer, Apple focused on how you'd look holding an iPod.
Had the auto manufacturers realized that Detroit was their "campus" and focused on how "fun" a transportation experience could be (instead of how fun the car could be) things may be much different today for the city and Detroit auto marketing campaigns.
It's so bad that Chrysler has resorted to selling grit and resilience in their "Imported from Detroit" campaign.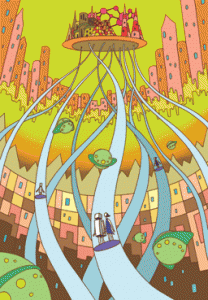 Imagine what a city Detroit could be, had the autos realized that this city was their "campus" and how selling the care and comfort of southeast Michigan roads and mass transport systems would help outsiders understand the magic of great transportation.
Visitors to Detroit should be treated to the swiftest, finest movement systems in the world. Cars would sell like wildfire as everyone wanted a piece of the dream that Detroit placed in their heads. Like Apple sells sexy and Nike sells health, GM and Ford would sell the dream of getting there quickly and in comfort.
I've lived in the Detroit area. I've worked with engineers from GM, Ford and Chrysler. These are passionate people who would love to live in a transportation beacon of a community.
There is some serious brainpower in Motown.
Even with Chrysler's new commitment to light rail and downtown, the opportunity may be long gone today. Companies such as General Electric and Boeing are titans in the mass transportation field, an area that could have been the work of Detroit, had the "Big Three" automakers decided to expand their view and sell dreams.

What Does This Have to Do With Me?

It's easy to poke a finger at Detroit today and say "woulda' coulda' shoulda" but how often do we fall into this same trap in our own lives? Financial planning is about income and expenses, and on the income side, we could be so much more if we'd expand our viewpoint. Often, we're so focused on our short term situation (I'm a car manufacturer), that we forget the long view (I'm a transportation expert). We don't widen the lens to see what dreams we could really live.
I see this in the blogosphere.
On several occasions I've seen bloggers begin a second blog rather than expand their original property. Why not create a bigger dream for yourself and current readers? Isn't it harder to create a new audience than to expand your current audience's expectations of your current site? We often reinvent the wheel instead of imagining the possibility of the present. What could your site be if you expanded your dreams?
We see ourselves as fat, thin, balding, gay, straight, religious, happy, sad. We often don't look beyond these borders we've place upon ourselves. Who we were yesterday doesn't define us today. We can be much, much more than we imagine, if we let ourselves widen the lens.
I've talked about fear in the past here, and how I've witnessed it paralyze people from their dreams. But fear alone isn't always the culprit. Instead, we get so busy working in our narrowly focused life that we don't ever think about the wider possibility.
I'm not a greeting card store cashier, I'm a customer service expert.
I'm not a telemarketer, I'm a communication specialist.
I'm not a stay-at-home mom, I'm an air traffic control coordinator (okay, that one's a not-so-funny joke, but you know what I mean).
Once you view yourself with a wider lens, will you need more training? Sure you will! A greeting card store cashier wo previously thought life was about punching a few buttons and sorting change, has some customer service techniques to learn … He studies customer psychology, retail placement, the optimal store temp and the right music in the background.
Not because the boss sent him to training, but because he's interested in bigger possibilities.
Suddenly, the greeting card store cashier who widened his field of vision is employee of the month, and maybe is enrolled in management training classes because the boss noticed a new energy from him. More income follows more responsibility. The budget is easier as there are new resources available. Now credit card debt shrinks and the 401k is full of money. Income follows the person who is passionate about their life and dreams bigger dreams.
Widen the lens. See the possibilities. Grab something better. You and Detroit.
(photo credit: Spirit of Detroit, laughlin, Flickr)