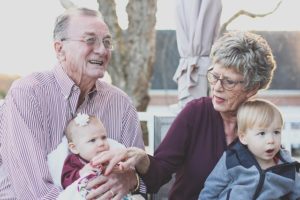 Grandparents are mostly known to be great story tellers. Most of them lived during those times that banks and financial intermediaries were very few. Some struggled to make ends meet but still brought food to the table on a daily basis. Some survived global economic crisis and had stories to tell- of which the young generation can learn several financial lessons which they can still apply today.
Be Creative
Having fun does not always mean spending a lot of money. Inviting your friends to dinner once in a while can reduce your trips to the local restaurants. You also do not have to spend on cinema tickets because you can watch a movie with your family. Taking kids to the local park or a free concert is also a good idea to break the boredom. You have to reduce the luxuries so as to cater for fixed expenses after a job loss or when your returns are low. Being creative allows your family to have fun even during a financial crisis.
Save
Some of them went through job loss or unplanned happenings which require some savings. The current generation should develop a habit of savings through the banks. It does not matter where you store your money, but it is wise to set some money aside for emergencies. A savings account can help you survive in the future during job transitions.
Insist on Quality
Some people focus on the looks rather than the quality when purchasing physical products. Others focus on quantity and in the end take cheap goods all in the name of saving. Quality goods may cost a penny higher, but it is worth it because they are durable. Save a few bucks every month and buy a high-quality car that will serve you for long.
Invest
Your investments should focus on the future. The decisions you make today affects generations to come directly. Do thorough research before investing in any venture. You can take educational plans for your children to cater for school fees.
Pay Instantly
Grandparents used cash when buying goods and paying for services. The world is somehow unsafe and carrying large sums of money may be risky. You can use a debit card(s) as a replacement for physical cash. Such payment method allows you to keep track of your spending habits and rectify when possible. It also reduces impulse buying because you mostly buy what you can comfortably afford.
Learning from the elderly passes from one generation to the next. Your grandchildren will learn some valuable financial lessons from you in the future too. The economic times that you face today will leave a mark which influences spending and saving habits.
In many ways you could argue that debt is a genetic 'condition' that is passed from generation to generation. Sometimes it's severe in that its physical financial obligations that are passed on, like an unpaid mortgage. In other cases it can be more intrinsic, like the way young children would be conditioned by the spending habits of their parents. Treat your children the value of money from as early as possible.