Can Gordon Ramsay Teach You Anything About Finance?
Confession time: I'm a Kitchen Nightmares addict.
I'll search the channel listing menu until I find it. It may surprise you that I'm not interested in cooking. My interest is purely for the financial tips.
Huh?
Kitchen Nightmares is a 30 minute case analysis financial show. Your financial life isn't just about maximizing how you spend money….it's about how you create wealth. For these business owners and workers, they're all trying to maximize the amount they put in their pocket at the end of the day.
A Good Coach
Enter the spawn-demon from hell, Gordon Ramsay. Sure, he isn't pretty, and his mouth is deplorable. NASCAR pit crews would blush if they heard half the stuff coming out of his mouth.
That's half the reason he's a great coach. He lays all the not-so-pretty stuff in graphic terms. You're going to change because he makes it sound awful to stay the same.
Ramsey helps business owners learn two important lessons:
- You should never accept less than your best.
- Change "tomorrow" doesn't work. Change "slowly" doesn't work. If you're going to make a change, the optimal way to do it is to change now.
There's a formula to the show that intrigues me.
Building Discomfort
At the top of each show, Gordon Ramsay strolls into the restaurant and eats.
He verbally rips the waiter on the quality of the entire meal, course by course. I'm sure he plans this to draw a contrast later between the "before" and "after" pictures of the restaurant he's about to makeover. No matter: this method of straightforward it ALL sucks talk helps business owners learn that things have to change.
What does this have to do with you? What do you need to change in your life? What needs to be different right now. If you were the restaurant owner, what would Gordon Ramsay say to you?

I know that you know exactly what he'd say. Write it down.
Digging into the Systems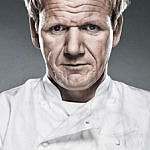 Ramsay next examines the establishment's tools. He looks at the signage, dining area, menu and kitchen. No stone is left unturned.
In one recent episode he even shut the restaurant down in the middle of dinner service. The owner was forced to apologize to his dining patrons that he was being forced to close for the night.
Why? They were serving food that was rotten and possibly contaminated.
Your homework? Examine your financial life. How is the 'signage?' (your physical appearance), what are things like in the 'dining room' (your work)? How is your 'menu' (your skill set)? What do you need to improve in your 'kitchen'(budget and financial tools).
Get Away
Here's what's particularly innovative about Gordon Ramsay's approach in Kitchen Nightmares: he examines the surrounding neighborhood outside of each restaurant for clues about how to help the business succeed. I call this "innovative" because it's so flippin' obvious: like you and I, the business owners often don't see success that's right in front of them.
Ramsay flipped a high-end restaurant in a farming community into a fresh produce deli and bistro serving local ingredients in all of their dishes. Brilliant! The farmers in the area were ecstatic and mobbed the place on opening day of the revamped venue.
In another, he took the dishes of a high end seafood restaurant out on the street and asked locals if they liked the food. He then contrasted the foo-foo seafood with a basic pot pie. In this blue collar area just outside the doors of the establishment, person after person preferred the pot pie. He lowered prices, flipped the menu to coexist with the already established eating patterns of the local community, taught the manager how to turn tables faster and cut the number of menu items in half so the kitchen could easily manage the increased traffic.
What should you do? Get out of the day-to-day for a moment, if only in your mind. Rather than working "in" your life, what should you do to work "on" it? What opportunities are low-hanging fruit? Are you creating extra work by ignoring obvious synergy with others around you?
Change, Listen and Change Again
Now that he has a plan, Ramsay springs into action. He relaunches the restaurant. That sounds like an ominous, time-consuming task.
He does it in 24 hours.
New menu, new paint, changed dining room. Ba-da-boom-ba-da-bing. Then they open the doors and see how it works.
Most of the time it doesn't go smoothly. They identify huge bumps in the road. Sometimes the kitchen isn't ready. Other times servers struggle with presenting new menu items. Often the owners get in their own way.
However, now that they're armed with direction and a plan of attack when things go wrong, guess what happens when they stumble? The owners and staff brush themselves off and keep plowing ahead.
What does this mean to you? Change now. Don't worry about the fact that you were a fish-place yesterday and now you're going to be a pizzeria. Once you've completely examined your surroundings and created a comprehensive plan, attack. You're bound to fall at first, but by listening to clues to tweak your missteps and having the fortitude to stick with your plan, you're sure to be back on your feet and moving in the right direction quickly.
Is Kitchen Nightmares a primer on financial planning? Nope. However, by looking at Chef Ramsay's system of coaching and applying his techniques of quick change and obvious innovation to your own situation, you may pick up a few motivational tips that'll set your financial "business" on the right track.
(photo credit: Gordon Ramsay, upside of inertia; Flickr)