Blog Post of the Week! – Like Ham and Potato Soup for Your Soul
As I'm typing this, two nice employees are locking my seat belt on the Aerosmith Rockin' Roller Coaster at Hollywood Studios. The nice people at Disney have warned me about blogging on the ride, but completely understood when I explained that we have important work here to do at theFreeFinancialAdvisor.com. They were especially impressed when I reminded them that it was Blog Post of the Week! day.
It's time to crown a winner again!
In my mind, there's no better way to start your New Year than with a super-charged, fired up blog post like this one from Seth Godin. This post not only has me ready to face the week….it has me ready to take on the world….and maybe even the Tower of Terror.
I know what a big reader of this blog Seth Godin must be, with our awesome Disney tips and the absolute best way to do New Years Resolutions. You can't find this stuff just anywhere on the internet. Nope. We've started a personal finance blog revolution or something.
So, Seth: feel free to print out this Blog Post of the Week! as your award. It's suitable for framing. I recommend sharing the achievement on Twitter, Facebook and with family members.
Meanwhile, minions, other bloggers were busy churning out epic content, too.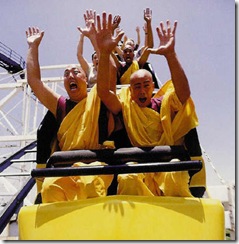 Here are but a few:
Let's start with another motivational post. Sam from the Financial Samurai posted this beauty on the Yakezie site this week: Learning from the Past for a Better Tomorrow. I have a feeling 2012 is going to be a good year for the Yakezie clan.
Our friends over at Don't Quit Your Day Job made me drool again with their graphic depiction and commentary on: Uncle Sam the CEO: Visualization of IRS Revenues Collected 1960-2010. I have yet to read a chart from this site that I didn't love. If I ever figure out how to draw a graph, minions, we'll stop using words forever!
Smart Money Hacks tackles the problem of paying down Christmas debt, for those of you about to suffer a holiday hangover when you see the credit card bill.
The winner of the Weirdest Blog Post Topic Ever? ….goes to Darwin's Money, who wrote this eloquent piece about the most expensive coffee on earth, that comes from a monkey's butt. I want to be on Darwin's editorial committee. Those discussions about "what should we publish next?" must be awfully interesting.
Like soup? That's a trick question, isn't it. Of course you do. So does any red-blooded human. That's why I'm in love with this completely non-financial post by Maggie at Square Pennies (well, it's a financial post in that the soup is flippin' inexpensive to make). She's got a great recipe for….wait for it….your favorite…..the Best Ham and Potato Soup Ever! You should start making this recipe the second you finish reading this post…and bring some to me. Two words: Yum.
I know it wasn't two words. How many of my blog posts have you read before this one?
Well, I'd love to share more (and there are a ton more), but the Indiana Jones Super Spectacular Stunt Show is about to start, and they've just handed me a leather jacket and whip.  Sigh. Apparently I bear a startling resemblance to Indiana Jones (except I'm balder, fatter and probably more rugged looking). It's hard being a superstar blogger at a theme park. They all want you for something.
Until next week, minions!
- Joe