5 Black Friday Shopping Tips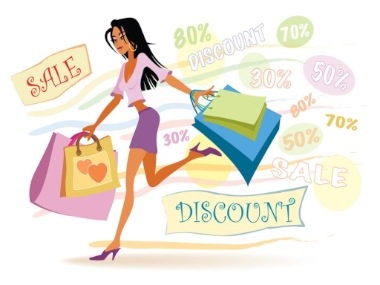 Stores have prepared all year for this day. You can bet that behind closed doors retail executives have held countless strategy meetings, discussed just how much to mark down items, and have rearranged stores in a quest to give you the optimal shopping experience….translated: the best opportunity for them to lift money out of your pocket.
Black Friday used to be my favorite day of the year. As the financial analyst at a television station, I'd roll in around 4:50 A.M. to discuss holiday spending trends and share shopping tips on air during the five a.m. and six a.m. broadcasts. By then the chopper was in the air, and the anchors, weather man and I would sit with coffee and watch crazy lines of people snake around the Best Buy and Target parking lots. It seems the store strategies work wonders every year and people are willing to part with thousands of dollars for a great deal.
I was happy to be sitting away from the madness in the studio, watching other people battle over big screen t.v.'s or the latest video game. It was nuts.
If you're going to brave the long lines to score some big wins during this year's Black Friday shopping madness, here are some tips to help you brave the crowds:
Let's make a deal. First decide how much you can spend on Black Friday. In a year like this, stores are willing to throw tons of deals at you to lure you into the store and cash from your wallet. You don't want to make a big mistake and regret any Black Friday purchases down the road. Great deals don't matter if you can't afford them.
Buy a newspaper Thanksgiving day. Remember newspaper? Although everything you need to know about big box deals is available online, equally great deals could be found at local stores. Highlight your top opportunities to save.
Write out your strategy. The best deals in each store are probably going to be plucked up fast, so visit the best deal first. This might not be as obvious as it seems at first. Drive time is going to matter if supplies are limited, so it might be helpful to think about how close stores are to each other. If you save $50 on your favorite deal, but the store is across town from three other deals which save you $70, it makes sense to give up the big deal in favor of outlets more closely packed together.
Avoid store cards. I know it's obvious, because if you're smart enough to be reading this, you're smart enough to know that a good deal today because you applied for the store credit card turns into a horrible deal very quickly when you see the interest rate.
Pack some "fun money." The quickest way to ruin your whole plan? Walk into a store and find an awesome deal you hadn't expected. Before you know it, you're loading the new television into your car and the budget is shattered. If you bake into your equation that there will be surprises, you'll pack some "fun money" to take advantage of these deals but still stay in budget.